Prof. Georgi Spassov – flute
For 30 years Georgi Spassov is the principal flute of the Sofia Philharmonic Orchestra and Professor at the Bulgarian National Academy in Sofia. Many significant talents with international career are among his student. He has been the first and only Bulgarian ever invited to take part in First and Second Symposia of the flutists from all over the world, where his creative and pedagogic achievements were highly appreciated. He is an honored jury of the most prestigious National flute competitions as well as of many International ones.
He has assisted famous Professor Andras Adorjan during the master classes at the Varna Summer Music Festival and the March Music Days Music Festival in 1990 and 1992 and every year he has lead numerous master classes in Bulgaria, Cuba, Japan, Sought Korea and others.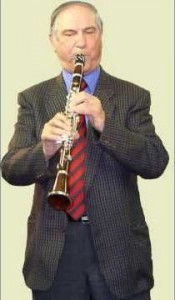 Prof. Petko Radev – clarinet
At the present he works as professor for clarinet at the Academy of Music and Dancing Arts in Plovdiv and the National Academy in Sofia.
Between 1961 – 1974, he is the first solo-clarinet of the Sofia Philharmonic Orchestra., and between 1974 – 1985 he is the first solo- clarinet in the orchestra of first solo-clarinet in the orchestra of the Bulgarian National Milan Scala.
Professor Petko Radev is an outstanding personality, unique performer and a teacher of generations of musicians.
Vesko Eschkenazy – violinist
"Vesko Eschkenazy is a brilliant violinist" – remarks the De Telegraaf in November 2000, one of the largest dailies in the Kingdom of Netherlands, after his interpretation of the Violin Concerto #1 by Szymanovski with the Royal Concertgebouw Orchestra in Amsterdam. Eschkenazy has been its concertmaster since the beginning of the 1999/2000 season.Born in Bulgaria in 1970 into a family of musicians, still a child, Vesko appeared as an orchestra leader. At 11 years old he became concertmaster of the youth Philharmonic Orchestra of Prof. Vladi Simeonov. He is a graduate of the L. Pipkov National Music School in Sofia and of the P. Vladiguerov State Music Academy where he studied violin with Angelina Atanazzova and Prof. Petar Hristoskov.In 1990, Vesko Eschkenazy left Bulgaria for London and completed a two year Masters Degree for solo performers with Prof. Ifra Neaman at the Guildhall School of Music, and received a Solo Recital Diploma – 1992. He is a laureate of the International Violin Competitions "Wieniawski" , Beijing and Carl Flesch in London. He performs extensively in Europe, USA, South America, India, China and takes part in the festivals Midem in Cannes, Montpellier and Atlantic – France, the Music Festivals in Nantes and Rheims, the New Year Music Festival in Sofia, Varna Summer and Apolonia.Vesko Eschkenazy has performed as soloist with the Royal Concertgebouw Orchestra, London Philharmonic Orchestra, English Chamber Orchestra, Monte Carlo Philharmonic, Sofia Philharmonic Orchestra, Mexico City Symphony, the Netherlands Philharmonic Orchestra, Prague Symphony Orchestra, National Symphony Orchestra of Ireland, Bach Chamber Orchestra – Berlin to name a few. He has taken part in concerts alongside Montserrat Caballe, Placido Domingo, Alexis Weissenberg, Yuri Bashmet, and Mstislav Rostropovich and has played under the direction of Mariss Jansons, Bernard Haitink, Riccardo Chailly, Kurt Masur, Sir Colin Davis, Carlo-Maria Giulini, Seiji Ozawa, and Emil Tchakarov.Each concert season is extremely full of engagements for Vesko Eschkenazy; some of his most outstanding performances were that of the Violin Concerto by Mozart in A major under Mariss Jansons, and the Dvorak Violin Concerto under Sir Colin Davis and coming up in November 2008 performances of the Barber violin concerto conducted by Jaap van Zweden, all with the Royal Concertgebouw Orchestra. In April-May 2009 Eschkenazy performed extensively with his brother, the conductor Martin Panteleev, with whom he performed the Dvorak violin concerto with Orkest van het Oosten, Mozart a major concerto Nr.5 with the Concertgebouw Chamber Orchestra and many other woks. The two brothers accomplished a tour to Sofia and Istanbul with the Concertgebouw Chamber Orchestra in the same time.Vesko Eschkenazy records for the Dutch Pentatone Classics CD label, his recording with the Concertgebouw Chamber Orchestra of violin concertos by Mozart, Mendelssohn and Schubert received the highest appraisal of the critics. On this occasion the Luister Magazine, Holland remarks: "Vesko Eschkenazy writes history with his new super recording for the Pentatone Classics of the violin concertos by Mozart and Mendelssohn". Michael Libovits (USA's Classics Today), adds: "he tackles Mozart with brilliance; Schubert with a stable phrasing … his warm, well rounded tone competes with any other recording of a famous violinist …"In 1995 Vesko Eschkenazy joined the pianist Ludmil Angelov to perform sonata duos. They have given a large number of concerts in Europe, exceptionally successful and warmly accepted were those by the Spanish audiences (in the cities of Gijon, Toledo and Madrid). This was a project of the Vesko Eschkenazy – Ludmil Angelov Duo presenting, in four successive evening cycles, the complete Mozart sonatas for violin and piano. Their joint Russian Music CD has been released by the Gega New Music House. Their second album "The fascinating George Gershwin" has been released by Pentatone Classics. In October 2007 the musicians performed a recital in a sold-out "Bulgaria Hall" in Sofia, broadcast live by Bulgarian national television.The 2010/2011 season Vesko started with open air performance in the very centre of Sofia with the Sofia Philharmonic Orchestra gathering the largest audience for classical concert ever. In the same season he will be artist in residence in the Bulgaria Hall in Sofia with 4 recitals and performance of the Bruch violin concerto in g minor with the Sofia Philharmonic. The same work he will perform with the Royal Concertgebouw
Orchestra and Kurt Masur in the 2011/2012 season.Since the summer of 2000 Vesko Eschkenazy has been playing a Guarneri del Gesu violin from 1738, the property of an anonymous sponsor in The Netherlands.
Prof. Anatoly Krastev – cello
Since 1972 he teaches at the National Music Academy "P. Vladigerov", where he is a professor. He leads master classes in France, England, Belgium, The USA, Korea, Greece, Portugal, Brazil, Macedonia and many others.
His students are solo artists, concertmasters and orchestra members on the most celebrated and famous scenes, in prestigious orchestras as well as pedagogues in musical colleges and universities.
At the present, Prof. Anatoly Krastev is vice chancellor of the National Academy.
Maria Prinz – piano
Maria Prinz has performed with leading orchestras throughout Europe, including several performances with the Vienna Philharmonic, collaborating with renowned conductors Riccardo Muti at the Salzburg Festival and Seiji Ozawa in Vienna,and with Neville Marriner in Bulgaria.
As a recitalist, she has appeared in the United States, throughout Europe and in Japan. Her chamber music collaborations include numerous performances with members of the Vienna Philharmonic Orchestra, including the flautists Dieter Flury and Wolfgang Schulz, and clarinetists Alfred Prinz and Peter Schmidl, among others.
Concerts in Weill Hall/Carnegie Hall in New York and Purcell Room/Queen Elizabeth Hall in London with flautist Patrick Gallois are currently scheduled.
Her recordings include Haydn and Mozart piano concertos with the Sofia Symphony Orchestra, Brahms Sonatas for clarinet and piano with Alfred Prinz, Poulenc, Martin? and Brahms Clarinet Sonatas with Petko Radev, a disc of chamber music of Beethoven, Glinka and Alfred Prinz, and a recording of songs by Giacomo Puccini with soprano Krassimira Stoyanova. A Naxos recording of Mozart Sonatas, arranged by Patrick Gallois for flute and piano will be released in February 2013 and a Chandos disc with rarities by Krenek, D'Indy and Schulhoff with the Academy of St.Martin in the fields under Sir Neville Marriner will appear in September 2013.
Maria Prinz was born in Sofia, Bulgaria, into a musical family. Her father is the famous Bulgarian conductor and composer Konstantin Iliev.
She studied at the Music University "Hanns Eisler" in Berlin with Rudolf Dunckel, in Vienna with J?rg Demus and in Paris with Yvonne Lef?bure.
In addition to her performing career, she has taught at the University of Music and Performing Arts in Vienna since 1987.
Darina Takova – opera singing
Darina was born in Sofia, where she finished the music school at Lyoli Daskalov and Music Academy in the class of Prof. Mati Pinkas and Prof. Mila Dyulgerova. Darina has been a member of the National Opera for six seasons since 1989. During this period, she also performed at all national opera houses and concert halls in Bulgaria. She has won awards from Luisa Todi in Lisbon, Young Opera Singers in Sofia, Francisco Vi?as Barcelona Totti and Del Monte in Treviso.
In 1992 she began an active career on the world's largest opera scenes; La Scala in Milan, Rome Opera , Florence, Bologna, Turin, Verona, Palermo, Trieste, Naples,Venice, Parma.
Festivals in Pesaro , Bergamo, Verona Arena .
Concert halls of Santa Cecilia , Concertgebouw in Amsterdam, Carnegie Hall in New York.
Baroque Festival in Innsbruck.
Her repertoire spans from early Baroque to Richard Strauss and works of contemporary authors. Her most noted roles have been Violetta in " La Traviata " by Verdi, Semiramis in the eponymous opera by Rossini, many other works by Rossini series and around bel canto repertoire : Lucia di Lammermoor , Lucrezia Borgia , Anne Boleyn , Mary Stewart and Roberto Deveryo Donizetti , Sleepwalker and Puritans Bellini and also roles in operas by Mozart, Gounod , Massenet, Bizet, Meyerbeer , Offenbach, Poulenc , Puccini and Verdi.
Seven years ago Darina started actively teaching by offering master classes and counseling to young opera singers from Bulgaria and abroad. Part of her new mission is to create favorable conditions for the development of young opera talents of Bulgaria as well as the establishment of the European Academy of Vocal Mastery. In 2011 this Academy held two three-week master classes in Sofia with great success and offering good results for young singers. The master classes in Sofia with world famous guest vocal teachers have now become a tradition. These activities were followed by Master Classes in Italy and Belgrade.
Prof.Angel Stankov – chamber music / violin
Angel Stankov has graduated from the Bulgarian State Music Academy in the violin classes of Prof. Leon Souroujon and Prof. Vladimir Avramov. Upon renowned violinist Ruggiero Ricci's recommendation he specialized in London under the tuition of Prof. Manoug Parikian and later of Prof. Yfrah Neaman.
He has been a Professor in jhe Sofia State Music Academy Pancho Vladigerov since 1996. Since 1999 to 2008 he has been Deputy Rector. He has performed in most European countries, the USA, Russia, Japan, Taiwan, South Korea, Singapore and Cuba and has also played in some of the most prestigious halls such as Carnegie Hall – New York, Kennedy Center – Washington, Gewandhaus – Leipzig, Moscow Conservatory Hall, Izumi Hall – Osaka, Suntory Hall – Tokyo, Nice – Opera and others.
Ahgel Stankov has been invited both as a member and chairman of the juries at HELEXPO and the Panhellenic violin competitions in Greece and a number of other national competitions. He has also served in the jury for Concert Diploma competition at the Guildhall School of Music and Drama – London.
He is listed in the Who Is Who in Music reference book of the Cambridge Biographical Institute.
"Angel Stankov is not only a promising violinist but he possesses great sensibility and certain nobility of character, which mark the true musician."
Lord Yehudi Menuhin 
Yildiz Ibrahimova – pop and jazz singing
Yildiz Ibrahimova was born in Bulgaria, she received a classical education from the National Music School and the National Academy of Music in Sofia. She sang with equal success plays in different styles. She chose to sing jazz – "the music of free spirit" as she used to say. Her debut as a jazz singer was at the popular at the time metropolitan jazz club "the Opera" with the Mario Stanchev's quartet. She was introduced to the audience by our renowned jazz-pianist, leader of the formation. The first major performance of Yildiz was as a soloist of the Bulgarian National Radio Big Band, conducted by Vili Kazasyan – concert aired on the Bulgarian National Television. Since the early 90s of the last century Yildiz has been living in Turkey, but the public and all specialists continue to accept her as one of the most popular and successful Bulgarian jazz performers.She participated in all important festivals as in our country, as well as in more than 40 countries in Europe, Asia, North and South America, Africa, Australia. Her repertoire includes standards, plays by contemporary jazz-composers, Bulgarian, Turkish and Gypsy folk songs, and also Russian romances.
During the period between 1979 and 2003 Yildiz issued fifteen successful albums. After a break of several years, in 2006 she presented the project "30 years on stage" – a double CD that collects some of her best performances in two thematic sections "Classics & Jazz" and "Balkanatolia". The singer's latest album is called "Back To My Love" and has a deep personal dedication.
There are many awards that the singer has received over the years. In 1998 she won the Vocalist of the Year award of the Turkish magazine "Jazz". In the same year she was awarded the "Balart" prize of the "Bulgarian spirituality" association – for outstanding contribution to the integration of the Balkan culture to the world one. She won the highest award of the Union of Musicians and Dancers in Bulgaria – "Crystal Lyre". And at the Global Forum for ecology and social development in Yohannesburg – South Africa in 2002 she was a special ambassador of the United Nations. There she gave a concert where represented Bulgaria and Turkey. One of her recent accolades was the award for her outstanding contribution to the development of jazz and best jazz promotion in 2009 at the International Jazz Festival "Nishville."
Binka Dobreva, Ph.D / folk singing
Born in the region of Yambol, Bulgaria, Binka Dobreva was raised in a musical family and inherited her mother's talent for singing. She graduated from the prestigious music high school "Filip Kutev" in Kotel and went on to successfully complete her college education at the "Academy of Music, Dance and Fine Arts" in Plovdiv. There she double-majored in "Traditional singing" and "Conducting folk music ensembles". Meanwhile she was active as a vocalist in the Trakia Folk Ensemble, and later in the highly esteemed "Filip Kutev National Folk Ensemble".
Since 1990 Binka has been part of the all-women vocal group "The Mystery Of The Bulgarian Voices" – the greatest ambassador of Bulgarian culture around the world. Alongside her career as a vocalist, Dobreva is active in the academic field – she teaches classes in folk singing at the South-Western University "Neofit Rilski" – Blagoevgrad, and at "Narodni Buditeli" High School in Sofia.
Binka has released a total of six albums, with arrangements and original songs beautifully crafted by her husband and musician Alexander Raychev. Among her most famous and beloved songs are: "Danyova Mama", "Gergana", "Ah, Merak", "S Lyube Shega Ne Biva", and many other.
In March 2013 Binka completed her doctoral dissertation, titled "Models for teaching traditional Bulgarian vocal music to children from 4 to 14 years old".
Dobreva is a well-respected teacher and mentor. She has cultivated the vocal talents of children from all over Bulgaria. Her students have earned numerous awards, medals, and honors and are a valuable part of the Bulgarian folk music scene.
  Team OFFENSICHT Fleming/Petranov / acting
The directing team OFFENSICHT Fleming / Petranov started to work together in 2008. Since then they staged the following projects:
2008 – "Untertagblues" – play reading (German/Bulgarian) of a collage of plays by Peter Handke;
2008 – "Gestrige K?sse und andere Fr?hlichkeiten" – play reading (German) of pieces by the Bulgarian author Juriy Datschev;
2008 – "Zum Geburtstag!" – play reading (German/Bulgarian) hosted by the "Institut zur Erforschung des Schaffens von Elfriede Jelinek" on October 20
th
, the Nobel prize winner's birthday;
2009 – "Die Er?ffnung" – play reading (German/Bulgarian) of stage plays by Peter Turrini;
2009 – "Brecht Revue": Revue arranged of Berthold Brecht's early works and songs by Kurt Weil;
2010 – "Schwarze Augen f?r gelegentliche Treffs": Play (Bulgarian) by Lubomir Peewski. Staged for Vienna and on tour in Bratislava (SVK) and Brussels.
2010 – "T?dliche S?nden" – play reading (German/Bulgarian) of plays by Felix Mitterer;
2011 – "Ein unmusikalischer Moment": Play (German) by Petrana Zlateva, Award winning piece (Preis des Au?enministeriums der Republik ?sterreich 2011).
2012 – "Sex ohne Zucker" after Franca Rame and Dario Fo's play "Sesso? Grazie, tanto per gradire!" staged at the State Theatre in Plovdiv (BG), guest performances in Smoljan, Varna, Gabrovo, Bratislava, Wien and Brussels. First collaboration with stage designer Peter Mitev;
2013 – "It was the Lark" by Ephraim Kishon staged at the State Theatre in Plovdiv (BG)
2014 – Workshop "Exercises in Style" at the Theatre Schauspielhaus – Salzburg (AT)Stefan Fleming
Born in Wien, Austria
Education: Reinhardt-Seminar by the university for music and drama – Vienna, Austria and training with Susi Nicoletti ' Bill Milli?, Jean Stavsky, Heide Steinwachs,
Vera Balser- Ebele
Director, Actor, AuthorBorislav Petranov
Born in Pleven, Bulgaria
Education: National academy for theatre and film Sofia; Master of arts (Dramatics)
Director, Cultural Manager, Theatre Critic, Theatre Historian, Dramatic Adviser
Svetozar Benchev
Svetozar Benchev is born in Burgas. In 1989 he gradauted Painting at the National Academy of Arts.
Awarded Dechko Uzunov Scholarship of the Union of Bulgarian Artists for postgraduate studies (1990).
Since 2003 – Associate Professor at the National Academy of Arts, Drawing Department.
In 2004 he conducted a Workshop with lectures at the Saint-Lukas Beedldende Kunstq,
Ghent on Drawing as a Peculiar 2 Attempt at Meditation.
Since 2007 – a head department of drawing at the National of Arts.
solo exhibitions:
2012-Burgas,Bulgaria,Nesi Gallery
2010-Sofia,Bulgaria,Altera Gallery
2009- Burgas,Bulgaria-Nesi  Gallery
2008- Burgas, Bulgaria – City  Gallery
2008- Sofia, Bulgaria – Ikar Gallery
2007- Sofia, Bulgaria – Ikar  Gallery- with Tomiya Nishimura, Japan
2007- Tokyo, Japan – Niche  Gallery
2005- Sofia, Bulgaria – Ikar Gallery – with Tomiya Nishimura, Japan
2004- Tokyo, Japan – Niche  Gallery
2003- Tokyo, Japan – Exhibition at the Bulgarian Embassy
2002-Sofia, Bulgaria- Exhibition at the Cultural centre of Hungary
2000 – Burgas, Bulgaria – Burgas Gallery – with Greddy Assa
He is a Member of the Union of Bulgarian Artists.